Community News and Updates
Airport Noise
Post Date:
10/08/2019 1:44 PM
From time to time, the City receives noise complaints from residents regarding air traffic operations in the area. In the event residents would like to notify authorities of noise complaints, please utilize the information below for airport noise stemming from Los Angeles International Airport and Hawthorne Airport.
Los Angeles International Airport (LAX) Airport Noise
Los Angeles International Airport (LAX) operates a noise and aircraft monitoring system in neighboring communities. They also maintain a 24-hour Aircraft Noise Complaint Response Office that utilizes the community noise hotline to identify problems as they emerge and to inform and assist community members. To report noise complaints, call LAX's hotline at (424) 64-NOISE (424) 646-6473 or visit the LAX Noise Management website. For information on the modernizing efforts by LAX, view their Connecting LAX page.
Hawthorne Airport Noise
Hawthorne Airport (HHR) also maintains an Aircraft Noise Complaint hotline. To report noise complaints, call Hawthorne's Airport Noise Hotline at (424) 307-1810, or email. You can also visit the City of Hawthorne Airport website for more information on Hawthorne's airport activities or submit a noise complaint online.
Councilmember Richard Montgomery is the City Council appointed Airport Liaison. He may be reached via email and can further assist in addressing and forwarding community concerns to both the LAX Airport and Hawthorne Airport representatives.
Runway Closures with Noise Impacts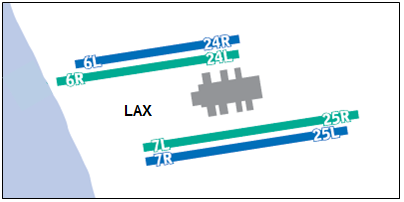 Los Angeles World Airports has provided a schedule of runway closure activity for December 2019 through January 2020 that may temporarily affect residential areas due to aircraft noise.
The following table provides a schedule about the specific change in aircraft operations associated with each runway closure, please click on the hyperlink below in the last column.
Helpful Links
Return to full list >>